The lockdown (national curfews, work at home, school closures) plus MOH actively tracing contacts of foreign arrivals should work in controlling the current outbreak and could bring new cases down to zero within ten days. There are signs of that happening in the latest data.
MOH's strategy will work in stopping the spread of the virus, but it is not sufficient and it cannot be sustained. The economy is at a standstill, unemployment will rise, businesses will go bankrupt, living standards will fall, and the government has no revenue. We need to allow businesses and schools to re-open to restart normal life and to get the economy going.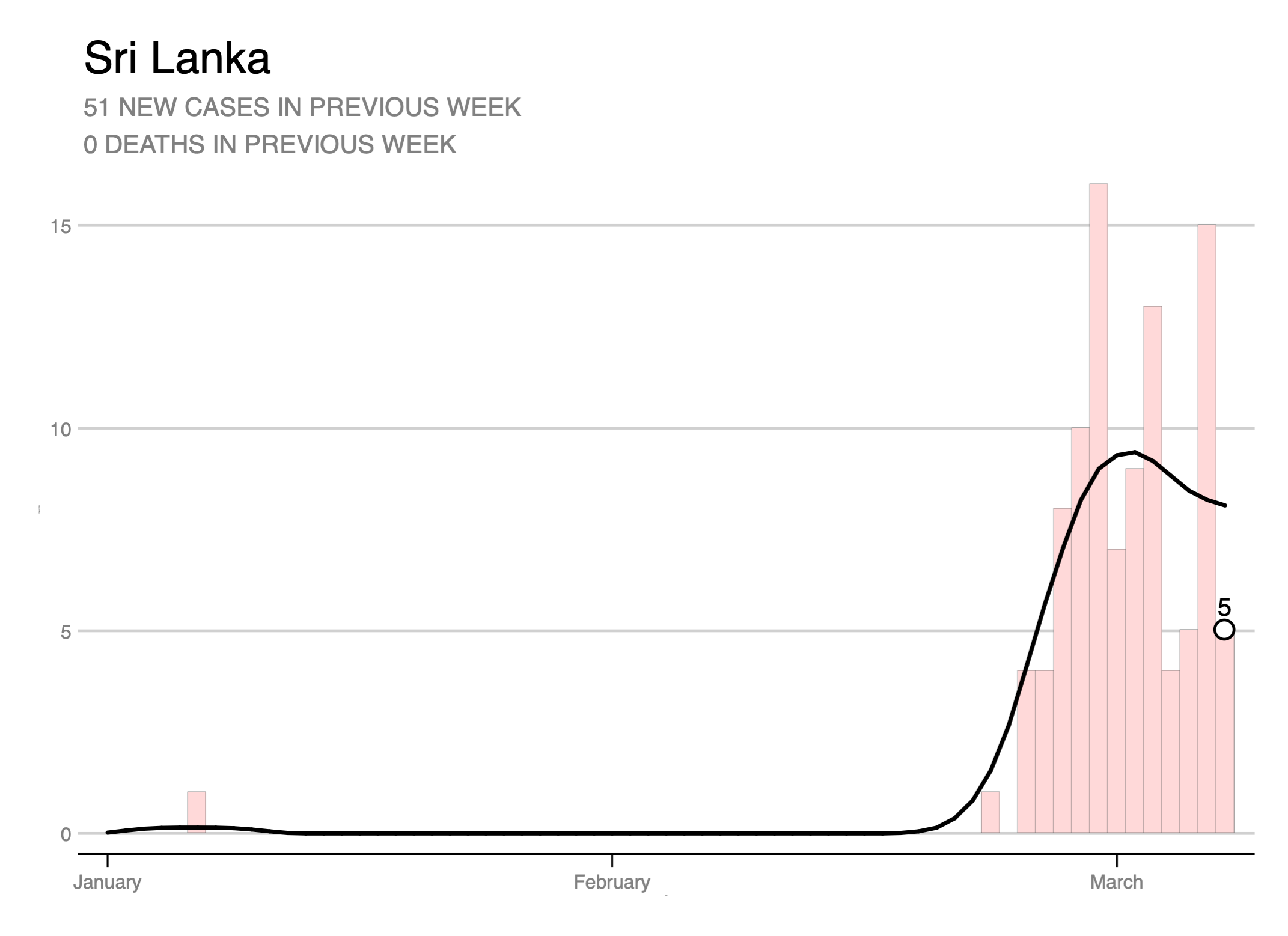 Note:  Chart shows the trend in the number of new confirmed cases each day till 26 March. The black line is the moving average, which smooths out day-to-day anomalies in reported case numbers.
We also need to open our ports, even on a restricted basis. But allowing foreign arrivals will import the virus again, since it has now spread to every country in the world. This is not going to change for the next 12 months. If we open the airport and keep businesses and schools open, then the virus will re-enter and spark a new outbreak, and the government will have no alternative to shutting the airport once again and imposing curfew.
The only solution that allows us to keep our airport open and allows business and schools to stay open is to vastly expand our testing and contact tracing capacity. Compared with places that have been able to keep Covid-19 under control, such as Singapore, Hong Kong, Taiwan and Viet Nam, testing rates in Sri Lanka remain very low – one quarter of the rate in Viet Nam and one eighth the level in Hong Kong.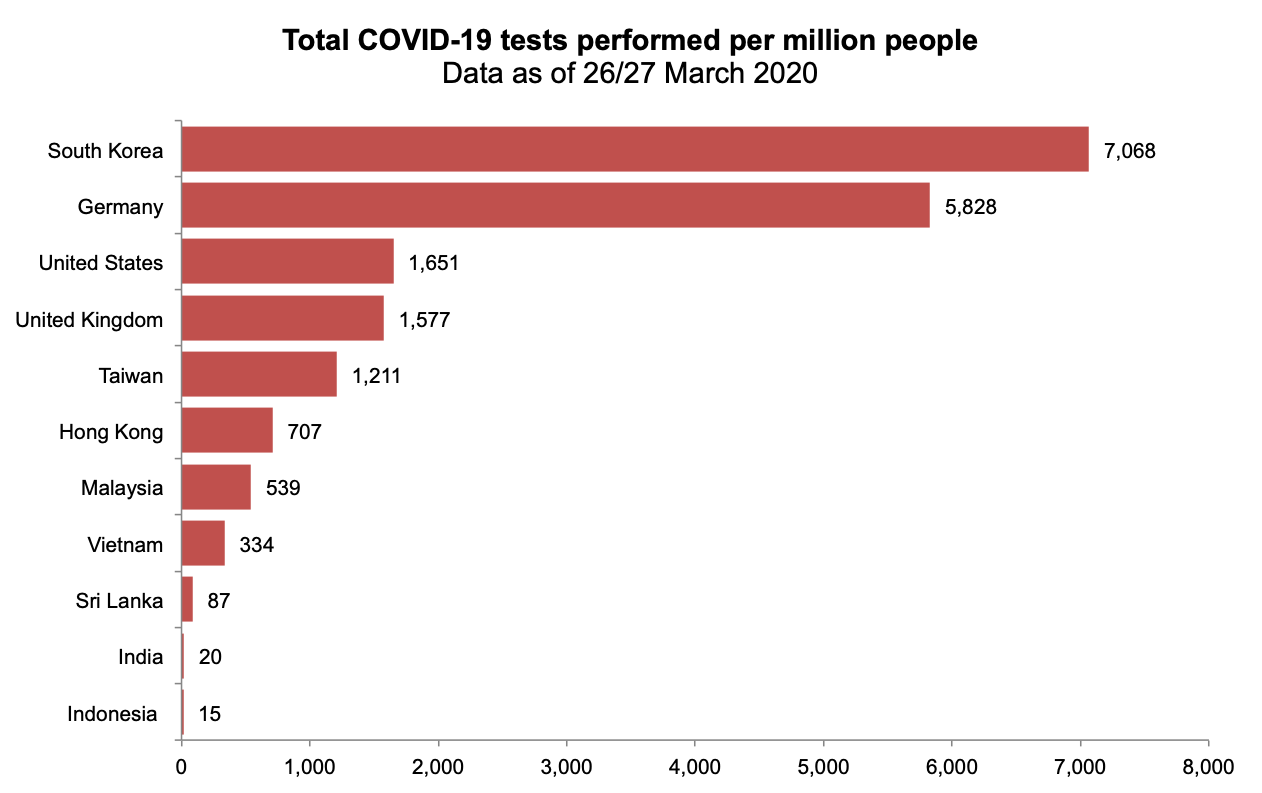 Other than this comparison, another indication that we are testing too few people is that around one in ten of tests in Sri Lanka have been positive, compared with just 1% in Singapore, which is recognized as having one of the most effective control strategies. 
Much more extensive testing as in Singapore and Korea would allow us to manage the risk of the virus coming in again and allow MOH to know much earlier when an outbreak is developing. This would allow much faster corrective action and minimize or avoid lockdowns. 
More extensive testing means increasing our testing capacity by at least ten fold so we can test up to 10,000 people a day in an emergency. This capacity will also allow us to even adopt Singapore's policy of testing arrivals to further protect the country, which is probably the safest approach if we want to open the airport.  
This clearly will cost MOH far more than the current approach. But whilst MOH's job is to think about the health risks, it is the government's responsibility to consider the full cost benefit for all of society of any action. MOH would be right to say that its current policy of travel restrictions and limited testing can keep the epidemic out of Sri Lanka. They would be right. But the net economic cost will be much larger than an alternative approach which emulates Singapore. 
Much more aggressive testing in the community, more robust screening and restrictions at the airport, and continued quarantine, isolation and contact tracing measures offer the best combination to achieve the desired health goal at lowest cost to the economy. To do that requires appropriate decisions by the President, Prime Minister and Treasury on the strategy and to allocate the necessary funds to MOH to implement.